When we shot Crocodile Hunter we worked as a crew of 3 – and Steve.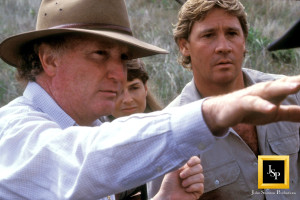 In 1992 John Stainton launched Steve Irwin and the Crocodile Hunter series onto Australian television and Animal Planet USA in 1996 pushing US cable ratings through the roof – it was a worldwide entertainment phenomenon.
John produced hundreds of hours of television programs under The Crocodile Hunter brand, including Croc Files & Croc Diaries – reaching hundreds of millions of viewers around the world. In 2003 John produced and directed the Crocodile Hunter movie – Collision Course and went on to devise several more Croc Hunter spin offs – New Breed Vets, Ghosts of War, Steve Irvin's Great Escapes, Ocean's Deadliest and in 2008/9 Bindi The Jungle Girl (winning Emmy and Logie awards).
In 2006 John produced Steve Irwin's memorial special He Changed Our World live on all Australian networks as well as around the world. It was the most watched Australian television live event in 10 years and a world acclaimed tribute to an Aussie legend.
In 2009 John produced and directed Your Worst Animal Nightmares – a six part docudrama series which was acclaimed for it's realistic and graphic reenactment sequences.
In 2011, John was commissioned to direct a pilot for Lonely Planet – Free Reign starring Bryan Brown and Rachel Ward.
2012 he entered into co-production on a major Australian heist movie with award winning writer Chris Nyst and ICON Productions , based on the 1984 Fine Cotton Affair. The producers plan to have the movie in production next year.
2013/14 John joined partners Peter Hackworth, Jacki MacDonald and John Harrison to create a new night street food market on Hamilton Wharf Brisbane called Eat Street Markets which proved an instant runaway success – ongoing.