The Man, The Legend, The Creative Genius.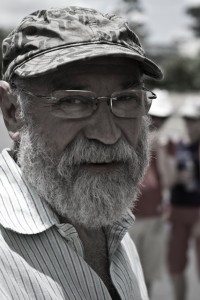 Greville Patterson entered advertising at the age of 15 with Brisbane agency Merchandising Publicity. In a four year apprenticeship he worked his way from message boy to learning many of the skills and nuances that go into press and print layout, design and copywriting.
A further four years at Jones Knowles McCann Erickson, under the mentorship of Creative Director Bill Bristow, allowed Greville to progress from layout artist to Art Director, write his first jingle and create TV commercials.
From there he worked with George Muskens, as a writer/art director team at both Ogilvy & Mather Brisbane and McCann Erickson Sydney.
After returning to Brisbane as Creative Director at George Patterson's he, with the assistance of his wife Jan, hung his own shingle for six years as Greville Patterson Creative, in a small worker's cottage on Latrobe Terrace, Red Hill.
From there he spent 10 years with iconic Australian ad agency Mojo, working initially as Co-Creative Director with Noel Harris in Brisbane, to Creative Director of start-up Mojo London, then back to Australia to work mostly for Mojo Sydney.
His last 14 years in advertising saw him go the full circle with Bill Bristow founded Brisbane agency Bristow Cornwell Moreland – BCM.
Throughout his often awarded 45 year career Greville created many campaigns for both local and national brands: Coca-Cola, Levis, Maggi Foods, Toyota Corolla, Qantas, Fourex, Fosters, Tooheys, Tourism Queensland, Bank of Queensland, Wallace Bishop Jewellers, Pauls Dairy and Ice Confections, Dreamworld, Mirage Resorts, Road Safety Queensland, and many more.